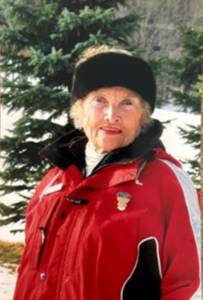 In honor of our beloved, 60-year member, Freddie Anderson who passed away last year, we are introducing Freddie's Fridays for the 23-24 season.  Freddie's Fridays are one-day clinics across our region, in every discipline, open to anyone, and conducted by the women on the Eastern Region's education staff. A portion of the proceeds will go to support scholarships for women.
Among Freddie's many accomplishments, she established the Schenectady Ski School in 1950 and taught for 25 years at Gore Mountain. She was one of the first women to be certified by a professional organization that eventually became the Professional Ski Instructors of America. And she helped form the first Board of Directors for the Eastern Region. Most importantly, she helped pave the way for other women to be able to teach skiing, get certified, and obtain leadership roles in the snowsports industry.  We believe Freddie's Fridays are a fitting tribute to an Eastern Region icon, continuing her legacy and support for women in snowsports.
Registration details coming soon!