The Eastern Region provides diverse resources & tools to help you get the most out of your membership.
PSIA-AASI Pro Deals available to members

OCTOBER 2023 BJs Fundraiser – BJs will donate $10 per NEW member sign up and $5 per RENEWAL sign up.
Signing up for a BJs Wholesale Club membership just got easier!
No more paper applications! It's simple and fast.
Here is everything you need to enroll or renew:
During the month of OCTOBER, call phone #: 800-313-8887
Hours of Operation: Monday-Friday from 9:00am-6:00pm EST
When you call, please have the following information handy:
PSIA  members  "Group Promo Code", which is 300222.
Debit or credit card information.
If you are a current BJ's member, please have your membership ID, which can be found on your membership card or from within the BJ's app.
Great New member offer!
New Club Card (Basic) membership – $25, 12 months, 2 cards, Receive $10 rewards
New Club 

Card 

+ (earn Rewards) membership – $75, 12 months, 2 cards, Receive $20 rewards
Renewal Club Card (Basic) –  $55, 12 months, 2 cards, Receive $10 rewards
Rewards Club Card + (earn Rewards) Renewal –  $110, 12 months, 2 cards, Receive $20 rewards
*Note- Rewards$$ are loaded onto your BJs card and are available 24 hours after membership is processed.  You can use your Rewards  AT THE CHECKOUT.   Rewards$$ are available for 30 days.   NY and NJ residents sales tax apply.

Professional discounts offered to all current PSIA members*:
*A current valid PSIA-AASI membership card and photo ID is required. Get comfort and performance with the right boot and a custom fit.  The Boot Lab is located slope-side at Windham Mountain Resort and equipped with the latest technology in boot fitting and ski tuning.   Windham Mountain Sports Boot Lab provides high-level expert service to every customer in a low pressure, friendly atmosphere. The skilled team is directed by Master Bootfitter, Marc Stewart:
Custom bootfitter since 1989
Board certified Pedorthist
PSIA Rocky Mountain level III instructor
Boot tester for Ski & Skiing magazines annual gear review.
Instructor at MasterFit University, the snowsports industry boot fitter training centers  teaching the art of bootfitting to ski industry and medical professionals throughout the US, Austria, and Australia
Using creative approaches based on years of experience, Marc customizes boots to address a skier's comfort, performance, and biomechanics in order to get their boots perfectly dialed in.  He specializes in stance balancing & alignment and on-snow evaluations, ski specific custom footbeds and prescription / sport orthotics, and the full array of boot & liner modifications.  No boot fit issue is too challenging or unique.
Appointments are highly recommended for fittings and consultations.
The Boot Lab is open every day through March.
For more information or to schedule an appointment, please contact Marc Stewart at mstewart@windhammountain.com, or call 518-734-4300 ext 1190 or 828-318-3949.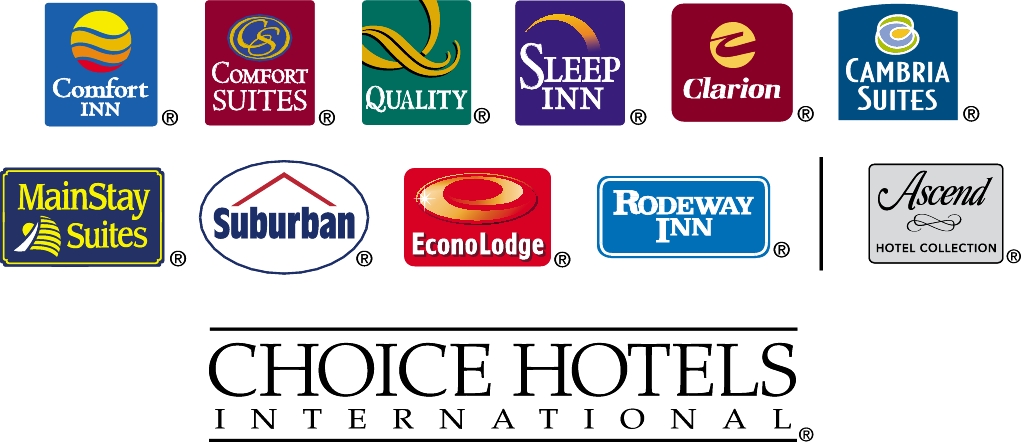 ---
PSIA-AASI members SAVE at Choice Hotels International®! Great Brands…Comfort Inn®, Comfort Suites®, Quality®, Sleep Inn®, Clarion®, Cambria Suites®, MainStay Suites®, Suburban Extended Stay Hotel®, Econo Lodge® and Rodeway Inn® brands and Ascend Collection® properties.
15% discount at more than 5,500 participating locations worldwide!
Convenience of booking via a toll-free reservation number (800.258.2847) or the Choice Hotels web site.
A Special Rate ID number dedicated to our members for use in making discounted reservations.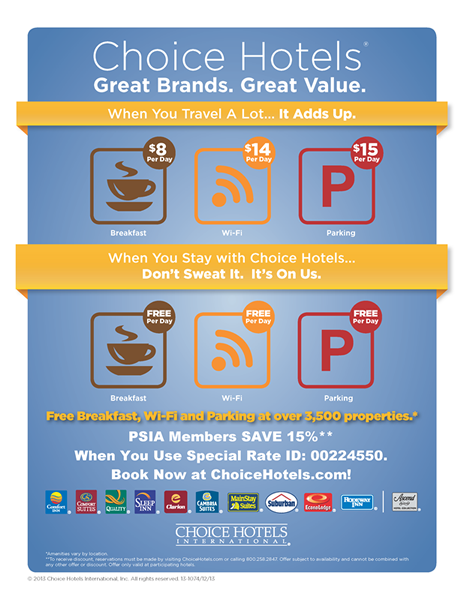 Now save even more! Sign up for the Choice Privileges® rewards program today to start earning points towards free nights, flights and more in addition to your 10% discount! It's fast, free and easy to join. Earn points at participating hotels. Go to choiceprivileges.com or call 888.770.6800 to sign up today!
Click here to view a document that has top-rated Choice Hotels locations within 20 miles or less of PSIA-AASI Eastern Division events.
To print a sheet of directions to use the discount and Choice Privileges Rewards, click here.
To receive the discount, you should go to www.choicehotels.com,
or call (800) 258-2847
and use our PSIA special rate identification number 00224550.
Remember to give your PSIA Special Rate ID along with your Choice Privileges member # to receive your discount while earning Choice Privileges points!

Click on the Make Winter More Fun logo above to access the current Eastern Division promotional slogan targeting skiing and riding public to take lessons from PSIA-AASI members at our consumer-oriented website.
IF YOU ARE A CURRENT MEMBER, you can get started on your profile for www.makewintermorefun.com/find-a-pro, you should to go to pros.snowproportal.com/resort/psia-e/get-started
Read through, and select a FREE or PREMIUM listing, and that will take you to a page to create your account.
1. Then, once you create the account, you will get an e-mail confirmation from SNOWPRO PORTAL.
2. Then you need to UPDATE/EDIT your profile, to add all of the specifics (certs, years, etc.).
*IMPORTANT: You need to keep/save this link to get back in.*
Once you create & update your public listing, you can edit it at any time. You will need log back in to edit it.
For future reference, you can login here:
pros.snowproportal.com/resorts/psia-e/login
If you have any questions, please click here to send an e-mail with your name, your member number, and your question.

Green Mountain Orthotic Lab
Professional discounts offered from Green Mountain Orthotic Lab
Green Mountain Orthotic Lab (GMOL) is offering professional discounts for PSIA certified instructors for the upcoming season!
All current members receive 36% off full price custom footbeds and manufacturer's suggested pro pricing on all boots in stock or special ordered.
GMOL professional discounts are extended to active instructors only. A current valid PSIA-AASI E membership card and photo ID is required.
Other GMOL Information …
GMOL is open 7 days a week by appointment.
For more information or to schedule an appointment, please click on the GMOL logo above, visit www.thebootguys.com or call (802) 875-1122.

PRO FORM OFFER
Have you tried all-mountain snowskating yet? The sport has been growing a lot over the past few seasons.
Hovland Snowskates is offering AASI members a 15% off PRO FORM deal this season — you can get more information about snowskates on Hovland's Website today!

Hovland makes it easy for AASI members to order a snowskate today.  All you have to do is use the Coupon Code "AASI" when you're checking out.

PERSONALIZED BUSINESS CARDS
Distribute your cards to students, ski schools and other instructors! The new cards will be full color, and feature the official PSIA and AASI logo!
Ordering online is quick and easy! Best of all, you will see a preview of exactly what your card will look like before you place your order! Click here to go to the online ordering portal!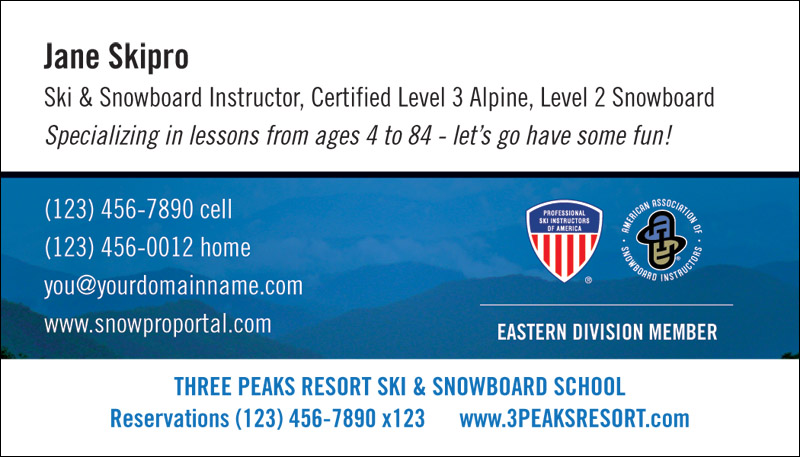 If you have any questions, please call the PSIA-AASI Eastern Division Office at (518) 452-6095.

2022-23 PROGRAM
www.reliableracing.com
PSIA-E MEMBERS:
10% discount (does not apply to already discounted products).
Use Keycode
16300
at check-out or if ordering by phone. Free ground shipping on orders over $150 (exceptions apply).
Did you know? Reliable Racing is a direct importer and exclusive seller of the following brands:
Stock race suits, warm up gear, parkas and pants available on our website
Custom uniforms (race suits, warm up jackets and shorts, parkas and zip-off pants)
No minimum order on custom digitally printed garments, no minimum on re-orders
Order any time of year. 12-14 week lead time
Swedish company with their own factory in Poland, they control every step of production

New LMACH and HMACH line replaces LF and HF waxes
Pool suppliers to the US Ski Team and several European national ski teams
Alpine & Nordic waxes, tools – helmets & goggles, too! Buy direct from the importer and save!

Full line of Alpine & Nordic skis at very affordable prices
Alpine skis include Tyrolia or Vist bindings
Nordic skis available with Rottefella NNN and Prolink (not compatible with Pilot)
Made in the Czech Republic at the oldest ski factory in the world
Manufacturer of skis for several other well-known brands. Buy direct from the importer and save!

Alpine, Nordic and Trekking poles at very attractive prices. Buy direct from the importer and save!
VISIT OUR RETAIL OUTLET, THE INSIDE EDGE SKI & BIKE!
643 GLEN STREET • QUEENSBURY • NY 12804     www.reliableracing.com       518-793-5677      TOLL FREE 800-223-4448


Ski-Pal ~ Ski & Snowboard Training Hoop Promotional Offer
Introduced in 2006, Ski-Pal is the only ski/ride-teaching tool that provides adults with the proper leverage needed to comfortably and effortlessly teach a child or disabled individual to ski or ride.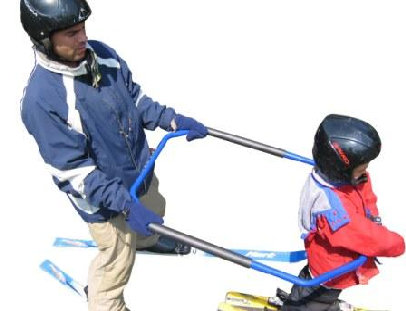 Ski-Pal is offering Eastern Division Members a 30% discount on their Ski & Snowboard Training Hoop, with free shipping.
To learn more about the Ski-Pal Training Hoop, click here to go to www.ski-pal.com.
You can call Ski-Pal Member Services to place a discounted order over the phone: (585) 281-2223.
You can click here order online.
Please have your PSIA-AASI membership number ready.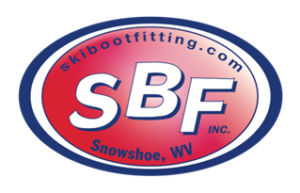 Locally Grown ……………Globally Known
Ski boot sales, modifications, stance balancing, ski school presentations
Discount for current PSIA-AASI members.


Location:
Snow Creek Mountain Sports 52 Silver Creek Rd Snowshoe, WV
Contact:
Greg Hoffmann
hoffmann.greg@gmail.com
802-379-1014


SmartWool Pro Purchase Program
SmartWool is again extending their Pro Purchase Program to PSIA-AASI Eastern Division members. Founded by New England ski instructors struggling to keep their feet warm, you won't find better gear to keep you comfortable in all conditions than SmartWool. The SmartWool fiber combines comfort and performance into one versatile package.
PSIA-AASI E members should apply individually online at www.smartwool.com/pro. After completing the application, each applicant will need to email or fax the most current pay stub and/or PSIA-AASI card credentials. Pro Program discounts are currently set to 40% off. Pro Purchase privileges expire one year from approval date and must be renewed annually.
We'll ask for your email and password – you can use the email and password you gave us when you set up your pro purchase account. As you shop, pro purchase pricing will automatically be shown.
You'll receive an email that your Pro Purchase status has expired one year from your application acceptance. Please fill out the application again, found on www.smartwool.com/pro and submit your credentials to either propurchase@smartwool.com or by faxing them to (970) 879-0937 with attention to SmartWool Pro Purchase. Once we receive your credentials, you'll be reinstated!
You can also ask a SmartWool Sales or Field Service Rep for a Pro Purchase card. This card has a "SmartCode" on the back of it, which you can enter on the Pro Purchase application in the Industry Partner Code field at the bottom. When you submit the application with this code, you'll automatically be approved, without sending credentials.
Pro Purchase purgatory:
If you've submitted your application but haven't sent us credentials, your Pro Purchase status is "pending". Once we receive the proper credentials for the Affiliation you chose on your app, we'll switch your account to "Active". To find out what credentials you need to send, see our Pro Purchase Terms and Conditions here.
Any questions? Feel free to email us at: propurchase@smartwool.com.
To learn more about SmartWool and the items you can purchase after you register into their Pro Purchase Program, click here.


Surface Skis has extended their pro deal program to PSIA-E. Founded in 2004 in the heart of the Wasatch Mountains of Utah, Surface has built a timeless, snow-lifestyle brand by creating forward-thinking, high-quality products and telling an authentic and inspiring brand story that resonates with the core customer.
Members should place your order at www.surfaceskis.com and before checkout enter "PSIA-E" and your membership number in the notes field. At checkout enter the promo code "PSIAE2223" to get 10% off your order.
This discount is exclusive to current PSIA – Eastern Division members. Any order not placed by a current member will be cancelled. Any orders that do not include "PSIA-E" and your membership number in the special instructions field in the Cart screen will be placed on hold until it can be confirmed that the order was placed by a PSIA – Eastern Division member. Orders exceeding 2 pairs of skis will need further approval by Surface. For questions email; surface@surfaceskis.com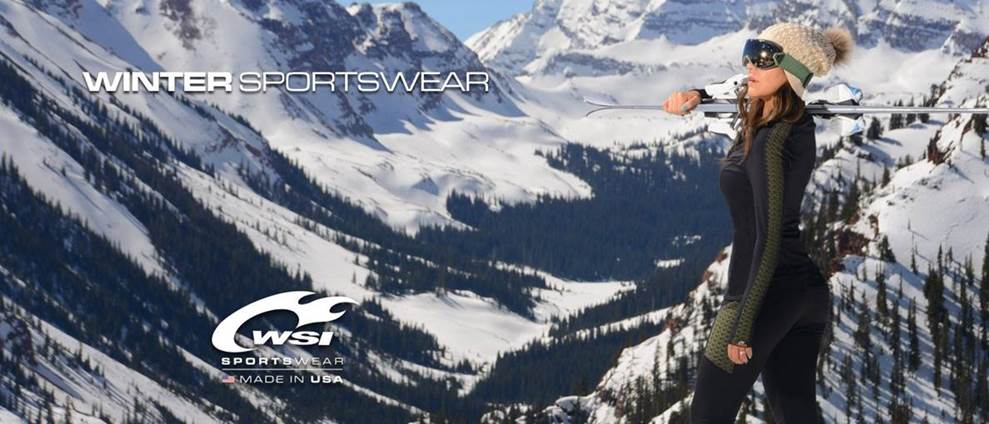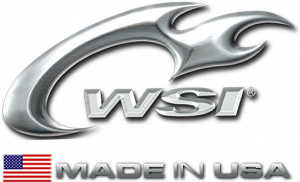 WSI Sports manufactures high quality 100% MADE IN USA, innovative performance apparel. They are supporting PSIA-AASI E by offering our members 30% off of the suggested retail price!